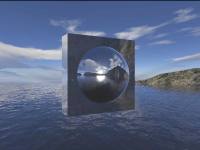 Cube mapping demo

I modified the texture loader, to accept a Texture Target constant.
This enables the the use of cubemaps using the sulaco 1.5 template.

I have used the GL_TEXTURE_CUBE_MAP_EXT, but to use GL_TEXTURE_CUBE_MAP_ARB would be exactly the same.
Just change the constants where needed.

The OpenGL1.5 templates have also been updated with these changes.

Click on the image to download the cubemapping demo, and click here to download the latest OpenGL1.5 Templates.