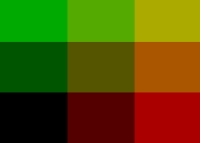 This tutorial shows the basic principles of Picking (Also known as glPicking)

Click on any block to change its colour.

NB: It is possible to click on more than one block at a time.

To prevent this you might want to make the picking area around the mouse pointer smaller.