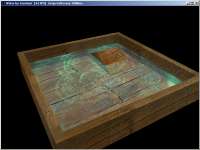 This is a demo showing the effect of water drops falling into some water. I havenít yet been able to test it on many machines, but on my machine it looks very real. I donít know what will happen on faster machines. My machine = Cel 450 + GeForce.


Keys :
"H" - display the help screen
"W" - add/remove the floating wedge
"+/-" - increase and decreases the interval in which drops will fall.
"Space" - adds another drop to the water
Arrow keys - rotate the scene.